Previous Post:
Custom Columns In Luxury Homes
&nbsp Next Post:
Custom Limestone Column
Italian white marble is still as famous today as it was before. Also known as Carrara marble, columns and sculptures are often made with this material and today, it can be seen a lot in many homes and establishments as part of interior design.
Italian marble columns make a great addition to one's home and if cleaned well, will last longer. There are companies which can do cleaning services for you, but actually, it's not hard to clean it by yourself at all. However, if there is a need to replace or modify your Italian limestone columns or other marble pieces, you should hire a professional.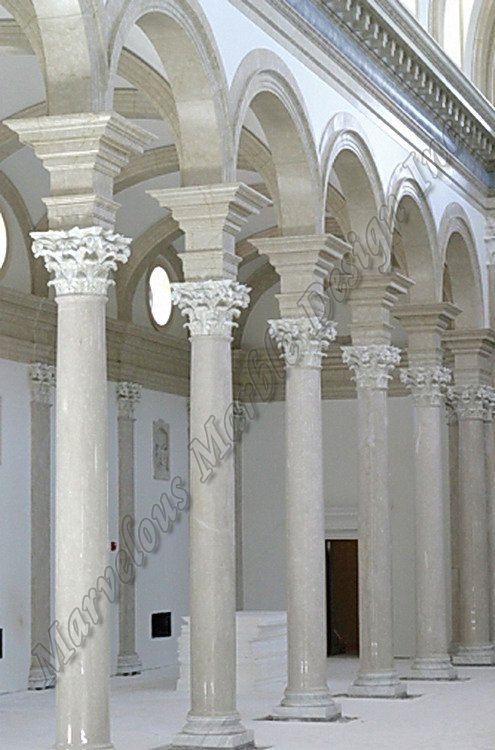 One company you can rely on is Marvelous Marble Design Inc. residents of Palm Beach and the rest of Florida can contact this number – 1-888-272-0630 – for custom designs and installations.
What to Prepare
     Chamois
   Marble polish
     Nonabrasive cleaner
    Plastic wrap
     Soft cloths
     Tape
     Water
Instructions
     Using a soft wet cloth or sponge, wipe down any dirt or residue on the surface. For best results, use warm water.
   Take out a nonabrasive cleaner, either ammonia, acetone or hydrogen peroxide. Cleaners will effectively remove stains that cannot be rinsed with water. Do not air-dry the surface and use the chamois for drying instead.
    Once the surface is dry, use the marble polish in order to restore the glossy look of the marble. Follow the label instructions for application in order to achieve best results.
     Air-dry the polish for 24 hours.
Do this procedure once you see chips or stains in your marble pieces. As an owner, you must carefully assess the state of your marble columns. Once you see damage which is beyond repair, contact a company to take care of it right away.